From Leader to Leader: ERC President Kelly Keefe Talks Internship Best Practices in Northeast Ohio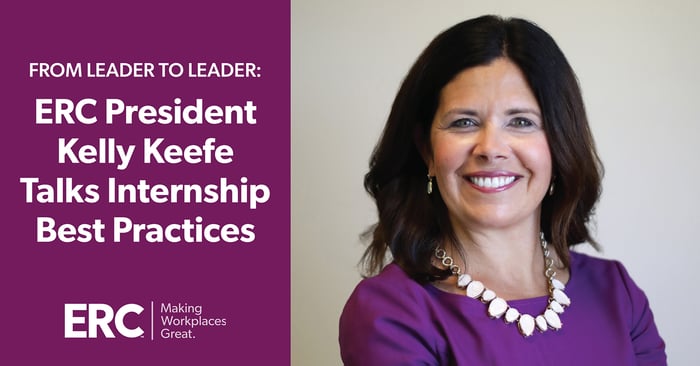 ERC Members with interns run impressive, multi-faceted programs that help the interns grow in their roles, but most are missing a crucial ingredient – they don't conduct formal performance evaluations.
While day-to-day coaching is valuable, it doesn't provide the credible, detailed data you need to drive optimal hiring decisions.
Of the companies ERC polled, 75 percent of respondents provide interns with regular feedback and coaching while only 19 percent use formal performance evaluations.*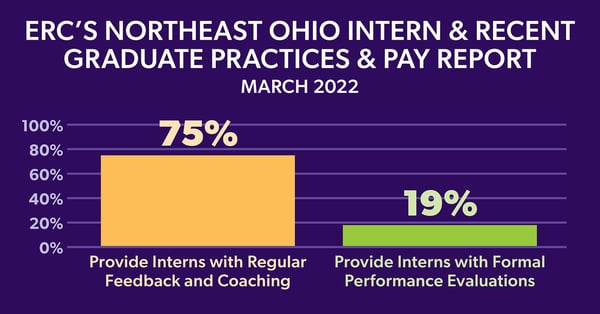 From the perspective of interns, formal performance evaluations can reveal their professional-level strengths and areas for improvement. From these formal performance evaluations, interns can understand if they have the technical skills and interpersonal skills to be successful. The interns can also understand if they align with your company culture.
Not only does this data provide the intern with a path forward on their strengths and opportunities, but these formal evaluations also provide the organization with insights into their talent pipeline and what should be included in their onboarding programs.
Instead of reading between the lines, in these formal conversations, their capabilities are analyzed and reported in an actionable way that they can use for self-improvement, just like the rest of the organization.
If your standard performance evaluation form seems like too much for an intern, you could try a simpler alternative, like this model:
Values: Cite an example of how the intern demonstrated one of the organization's values.
Accomplishments/Strengths: Invite both the intern and manager to list the intern's key accomplishments and strengths.
Behaviors: Have the manager identify one thing the intern should continue doing and one thing the intern should start doing.
Hiring people is nerve-wracking and risky. Hiring past interns reduces the risk because you have already seen the individuals up close. Ultimately, great workplaces are built from great people. This requires hiring the right people at all levels.
Continue including your interns in company activities, assigning them mentors, giving them challenging assignments, and providing opportunities for them to meet with C-level executives. All of these steps are important, but not enough.
Take the time for performance evaluations and feel confident that you have offered the intern the feedback that they deserve while potentially finding talent for your future.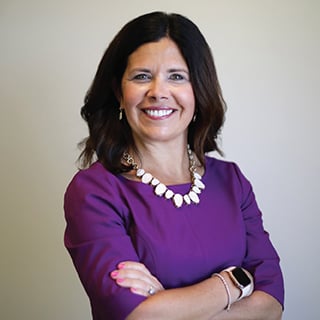 Kelly Keefe, SHRM-SCP
President, ERC
*Source: ERC Member Poll Results: Northeast Ohio Intern & Recent Graduate Practices & Pay, March 2022