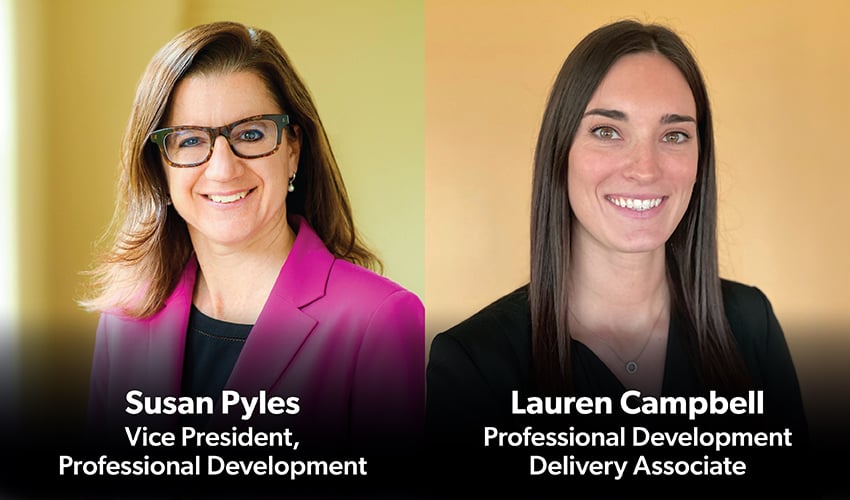 Highland Heights, OH – ERC, the 101-year-old organization that provides people data and solutions to help leaders build great workplaces, is pleased to announce that Susan Pyles has been promoted to Vice President, Professional Development, and Lauren Campbell has joined the company as Professional Development Delivery Associate.
Susan is an award-winning human resource and talent management leader who re-joined ERC in 2019 as Director, Consulting & Member Services. In January of 2021, Susan was promoted to her most recent role as Director, Professional Development. Prior to ERC, Susan served as Director, Global Talent Management & HR Business Partner at MTD Products.
Susan has played a central role in developing and enhancing our relationships with clients and members. She has contributed to ERC's success by integrating people data into all of our service offerings and leveraging her experience to provide clients with real-world insights and solutions.
Susan has and will continue to enrich our membership benefits, expand our surveys and research practice, and enhance our compensation consulting and employee engagement solutions.
"We're thrilled to announce Susan's promotion! She is the true embodiment of our Core Values and a wonderful colleague and leader to many. Susan helps our clients with real insights and solutions to their business issues and opportunities, innovates our services, leads our teams of experts, and helps us all solve problems," said Senior Vice President Carrie Morse.
ERC is also ecstatic to welcome Lauren Campbell to the Professional Development team!
Lauren brings four years of HR experience to ERC from the manufacturing and health care fields. In her new role, she will oversee the successful implementation of all ERC training solutions, partner with our network of expert facilitators, administer all assessments, and serve as an HR resource for our members.
Lauren previously served as an HR Generalist for three years at RAMCO Specialties, a single-source supplier and manufacturer of fasteners. In this role, she implemented and managed their HRIS system, administered the full-cycle recruitment process, and managed benefit and 401(k) programs and enrollment, among other responsibilities.
"We're delighted to recognize Susan's leadership and exceptional work with this well-deserved promotion, and we're excited to have Lauren join and contribute to our team's success!" said President Kelly Keefe.
About ERC
Since 1920, ERC has provided people data and HR services to help leaders make better decisions about their business and their people. Through our certified HR advisors, we offer consultative services, compensation benchmarking and data, workplace polls and surveys, networking, and cost savings opportunities. We also offer virtual and classroom instructor-led training, on-demand learning, individual and team assessments, one-on-one coaching, and employee engagement services. In addition, ERC is the founder of NorthCoast 99 and sponsors the ERChealth insurance program for Ohio employers.