HIGHLAND HEIGHTS, Ohio - ERC, the 101-year-old organization that provides people data and HR services to help leaders make better decisions, is pleased to announce the appointment of Dalithia Smith with Oatey Co. and Matt Dailey with Royal Chemical to its Board of Directors.
ERC's Board of Directors advises on the company's overall operations, including finance, compliance, business strategies, and HR practices. The Board of Directors shares its expertise and guidance with ERC's management team, President Kelly Keefe, Senior Vice President Carrie Morse, and Controller Sandy Sharrone, in quarterly meetings.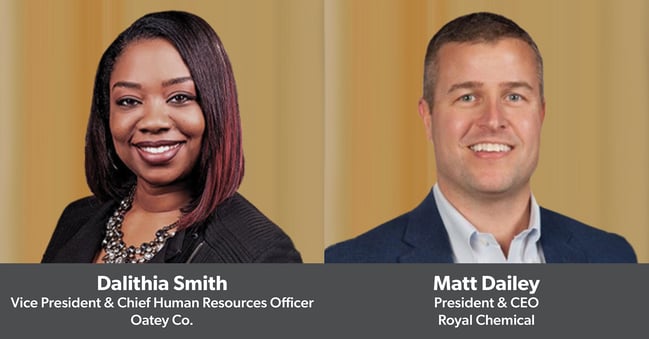 ERC also thanks its outgoing Board Directors for their service to the organization: Stephen Stanisa, retired Principal at HW&Co., and Kirk Zehnder, CEO at Earnest.
"We're delighted Dalithia and Matt have joined the ERC Board of Directors. The background they bring will help guide ERC as we continue to serve our members and clients, providing critical people data during this pandemic. They have both proven a commitment to building and maintaining great workplaces for all employees, and I look forward to building on their experiences. We're excited to channel their talent and energy into furthering our mission and guiding our organization," said ERC President Kelly Keefe. "We're also grateful for the time, dedication, and knowledge that Steve and Kirk contributed to our strategic direction."
Dalithia and Matt join ERC's current Board Directors: Chairperson Nicole Crews, Global Diversity & Engagement Manager at Swagelok; Raj Aggarwal, Ph.D., CFA, Board Member, Executive, Teacher & Scholar; John Dearborn, Principal at Advise and Connect, LLC; and John Gadd, Chairman of Become Known and President & CEO of Hotcards.
About ERC's New Board Directors
Dalithia Smith, Vice President & Chief Human Resources Officer at Oatey Co.
With more than 20 years of experience in Human Resources leadership, Dalithia has significant expertise in all areas of human capital management, talent acquisition, and overall HR strategy. Dalithia joined Oatey Co. in 2018 and was promoted to Vice President and Chief Human Resources Officer in 2020. In this role, she leads all HR functions at Oatey and is responsible for Environmental, Health, Safety, and Security as well as Diversity, Equity, and Inclusion. Prior to Oatey, she spent 10 years at Lincoln Electric, most recently serving as Vice President, Human Resources, Americas Welding.
Dalithia is a Certified Compensation Professional (CCP), Senior Certified Professional with the Society of Human Resources Management (SHRM-SCP), and a certified Senior Professional in Human Resources with the Human Resources Certification Institute (SPHR).
Matt Dailey, President & CEO at Royal Chemical
Matt Dailey is President, CEO, and majority owner of Chemical Services Group, Inc. ("CSG"). CSG is a holding company with three operating companies: Royal Chemical, DeForest Enterprises, and Innoleo. Matt joined the predecessor of CSG in September 2015 and led a management buyout of the company in August 2016.
Prior to CSG, Matt was a Partner with The Riverside Company, a global private equity firm with more than $8.0 billion in assets under management. Matt joined Riverside in 2003, and over the course of his career there, he played an active role in approximately 20 investments across a variety of industries. Before Riverside, Matt spent two years at Morgenthaler. Matt began his professional career as an Analyst in National City Corporation's newly formed Investment Banking group.
About ERC
Since 1920, ERC has provided people data and HR services to help leaders make better decisions. Through our certified HR advisors, we offer consultative services, compensation benchmarking and data, workplace polls and surveys, networking, and cost savings opportunities. We also offer virtual and classroom instructor-led training, on-demand learning, individual and team assessments, one-on-one coaching, and employee engagement services. In addition, ERC is the founder of NorthCoast 99, and sponsors the ERChealth insurance program for Ohio employers. ERChealth is an affordable, quality health insurance program for mid-market organizations that delivers uncommonly low rates, and comprehensive coverage and plan options.